==================================
==================================
GENRE: Hard Rock
RELEASE: 1980
FORMAT: LP (1980) | CD (2002)
------------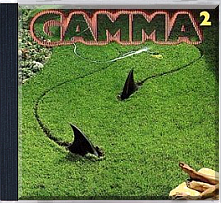 1. Mean Streak
2. Four Horsemen
3. Dirty City
4. Voyager
5. Something in the Air
6. Cat on a Leash
7. Skin and Bone
8. Mayday
--------------------------------
"strikes gold for pure hard rock fans alike.."
~ Desert Drifter (Nov 05, 09)
With Ronnie Montrose's incorporated crisp guitar rifts and Pattison's strong vocals, it keeps the style and tone the band Montrose once had and carried it into the next decade. A slight different feel to it from their first album, almost a combination between hard rock and blues. It stands up to the rest, an intriguing hard rock album of its own flavor. Strikes gold for pure hard rock fans alike..
"Mean Streak" is a great opening track. As they were once worried about the front cover having a foot of a woman, this is not a tune to play in front of your girlfriend. She would probably get a bad indication. As for "Four Horsemen", an awesome rocker about payback and punishment. The opening guitar intro is spectacular. "Dirty City" probably wouldn't be too bad if someone wasn't so bend on the overuse of keyboards. "Voyager" and "Something in the Air" are the two that really don't fit in here, both ballads. I'm not one against ballads, although these two never seem to keep my interest. Pattison in my opinion, is rather best at rockers. "Cat on the Leash" picks right back up on the exploding tone the first two tracks left off. While "Skin and Bone" is a much harder tune. Finally, "Mayday" finishes the album off nicely. The lyrics are outstanding. The guitar riffs made me pick up the strings. A deep pleasure of mimicking those in front of guests and friends. It took me two months to get the right chords. What a genuine genius that Montrose is..
Personal favorites: "Mean Streak", "Four Horsemen", "Dirty City", "Cat on a Leash", "Skin and Bone", and "Mayday". As for their third or fourth albums, this is best they will ever get. Maybe a big step up from Gamma 1, but a shame they never carried further into their next two line-ups..
--------------------------------------
· VOCALS: Davey Pattison
· GUITARS: Ronnie Montrose
· KEYBOARDS: Jim Alcivar
· BASS: Glenn Letsch
· DRUMS: Denny Carmassi
==================================
[ GARY MOORE - DIRTY FINGERS ]
==================================
GENRE: Hard Rock, Heavy Metal, Blues-Rock,
RELEASE: 1981
FORMAT: LP (1984) | CD (2002)
------------
1. Hiroshima
2. Dirty Fingers
3. Bad News
4. Don't Let Me Be Misunderstood
5. Run To Your Mama
6. Nuclear Attack
7. Kidnapped
8. Really Gonna Rock Tonight
9. Lonely Nights
10. Rest In Peace
--------------------------------
"pure hard rock blues from beginning to end.."
~ Desert Drifter (Oct 24, 09)
Set aside from Moore's previous albums, this one is much more hard rock incorporated. Noting his team up with Jimmy Bain (Rainbow, Dio, & Wild Horses), the two pull off quite an impressive album. Even though I always liked Moore's line of work, Dirty Fingers had more uniqueness put into it. Moore's inspiring guitar riffs and Bain's raring bass, brings out something special. Hearing it first in the late eighties really got me hooked. If you want to test the power levels of your stereo, this would be the album to stick in. All pure hard rock blues from beginning to end. High-end energy that comes off these tracks..
Guitar ripping, bass blaring, and even screaming "Hiroshima" offers it all as the opening track. The only thing with it is the lyrics, somewhat depressing based from the bombing events in Japan. We all know it happened, but if you can look past the lyrics, its got a pretty good rhythm to it. "Dirty Fingers" is a one-minute instrumental piece while "Bad News" continues it into a one-sided relationship blues rocker. I love Moore's intro scream, the song really kicks. "Don't Let Me Be Misunderstood" is a remake of the '65 classic from The Animals. Which Moore plays a great update to the tune. "Run To Your Mama" is a fast-pace rocker. Probably the best of the bunch, a heavy kicking track. "Nuclear Attack" was never the most favorite, but you got to listen to the awesome guitar riffs in the middle. Some reason the song just never grabbed my attention with its strange war lyrics. "Kidnapped" is the weak link. Kind of killing the whole album's momentum. "Really Gonna Rock Tonight" is a fast-blaring monster. While "Lonely Nights" is another one-sided relationship blues rocker. Another great of the bunch. Finally "Rest In Peace" is a dud, telling you it's time to switch albums..
Personal favorites: "Hiroshima", "Bad News:, "Run To Your Mama", "Really Gonna Rock Tonight", and "Lonely Nights". This album is and always will be one of my personal favorites. Never knew anyone whom heard it and didn't like it..
--------------------------------------
· VOCALS: Gary Moore
· GUITARS: Gary Moore
· KEYBOARDS: Don Airey
· ORGAN: Don Airey
· DRUMS: Tommy Aldridge
· BASS: Jimmy Bain
==================================
==================================
GENRE: Hard Rock,
RELEASE: 1995
FORMAT: CASSETTE (1995) | CD (1998)
------------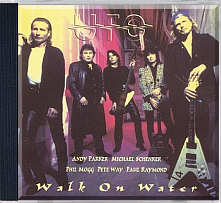 1. A Self-Made Man
2. Venus
3. Pushed to the Limit
4. Stopped by a Bullet (of Love)
5. Darker Days
6. Running on Empty
7. Knock, Knock
8. Dreaming of Summer
9. Doctor Doctor" [New Version]
10. Lights Out" [New Version]
--------------------------------
"all hype of Schenker's comeback.."
~ Desert Drifter (Oct 29, 09)
After the final "Making Contact" in '83, I thought all hope was lost with UFO.. until this sudden reunion in '95. Don't know how I managed to slip this one past me, wasn't till '98 I ran across the cassette in a used book and music store..
Playing it at first really excited me, then after listening to it half way thru, I lost the anticipation of blasting it thru the stereo. It seems this album incorporated more of a grown-up mature feel to it (compared to their previous albums), although not what steered me way but weak mid-line lyrics running numerous songs off track. Taking notice of the title and lyrics within the songs, it seems influenced by Christianity. I see nothing wrong with it, but sure Mogg will forever be into the microscope for this.. even though numerous other bands mention satin and hell. Mostly it's all hype of Schenker's comeback. Many people argued on Schenker's leaving and Chapman as replacement ended UFO, but really just the style changed. Their early days with party rock to more of a mature steady rock tone. Mogg was the brains behind it. In my opinion wasn't for the worse, added a different style in which many bands fail, to change within the times. Spite these flaws, there's a couple of gems here that show off the past success.. A bit of hope for us UFO fans..
"A Self-Made Man" has the spotlight of an excellent opening track, but lyrics in between that seem to kill it. As of "Venus", I took a great liking to. This song grips the opening keyboards to the crisp guitar. The lyrics hit the right moments all thru the song. "Pushed To The Limit", "Stopped By A Bullet", "Darker Days" and "Running On Empty" are attention losers, while "Knock, Knock" almost but not quite grasps the lines of UFO's past material. "Dreaming of Summer" then again starts off the chain of weak links. "Doctor Doctor" was never a personal favorite of theirs for me, but this updated version really puts the one from Phenomenon into shame. Finally down to "Lights Out" they also highly succeed on making truly grand. One of my old favorites from them.
Personal favorites: "Venus", "Doctor Doctor" and "Lights Out". As for the rest, I'm not too keen on. If UFO plays in the near future, I probably would have to pass. Like all things, they have their beginnings and their time for letting it go. The album is not entirely that bad, but has its weak moments. I guess it's nice to see them playing after eleven years, although seems just a bit thrown out there..
--------------------------------------
· VOCALS: Phil Mogg
· GUITARS: Michael Schenker/Paul Raymond
· KEYBOARDS: Paul Raymond
· DRUMS: Andy Parker
· BASS: Pete Way
==================================
[ WILD HORSES - STAND YOUR GROUND ]
==================================
GENRE: Hard Rock,
RELEASE: 1981
FORMAT: LP (1981) | CD (1999)
------------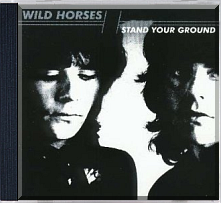 1. I'll Give You Love
2. In The City
3. Another Lover
4. Back In The U.S.A.
5. Stand Your Ground
6. The Axe
7. Miami Justice
8. Precious
9. New York City
10. Stake Out
--------------------------------
"These guys really know how to jam.."
~ Desert Drifter (Oct 30, 09)
An intriguing line-up.. drummer Clive Edwards from UFO, bass player Jimmy Bain from Rainbow, and guitarist Brian Robertson from Thin Lizzy. Together you got an interesting mix from multiple influenced bands. Even though Wild Horses doesn't sound close to either of them, they managed to develop their own style with this second album..
Right off the bat you'll notice Robertson's awe-inspiring guitar riffs. While Bain's vocals can be a tad weak at times, the catchy-driven lyrics makes up for the slack. Taking the two guitarists have no prior song writing experience, you've got to give them a hand on trying. They do keep you hooked. The tone and rhythm, they excel brilliantly. The bass jumps off the floor..
"I'll Give You Love" hits it off quick (probably their most famous track here). A pretty cool track, the lyrics flow rather nicely. "In The City" brings the tone down a little, which isn't too bad. "Another Lover" and "Back In The U.S.A" screams The Beatles, although grows on you over time. "Stand Your Ground" isn't bad, the guitar riffs gets my attention. A lift up your spirit type (as the title is written). "The Axe" is a heavier tune (their second best here). "Miami Justice" is definitely guitar-driven, although the lyrics seem to kill the momentum for me. "Precious" is the ballad of the bunch. Coming from these party boys, it's really not bad at all. "New York City" isn't the best song here, more of the weak link. While the final "Stake Out" touches this album off rather nicely. Either way, you can probably play this album all the way thru. There's really not one bad song here that would urge you to flip tracks.
Personal favorites: "I'll Give You Love", "Stand Your Ground", "The Axe", "Precious" and "Stake Out".. Compared to their "First Album" the crisp guitar-driven party rock brings this one out. If you manage to grab this on CD by Zoom Records, the added "The Rapist" and "The Kid" are great tunes. The only disappointment was the missing "You Were The One" on their re-releases. If these guys ever regroup to release a third album, you bet I be one of the first to grab it up. These guys really know how to jam, while improving their style as time grows.
--------------------------------------
· VOCALS: Jimmy Bain
· GUITARS: Brian Robertson/John Lockton
· KEYBOARDS: Jimmy Bain/Brian Robertson
· DRUMS: Clive Edwards
· BASS: Jimmy Bain